Happy New Year to you!
First week back to normality after the Christmas holidays. January always has an air of fresh beginnings. The decorations come down and things are tidied up ready to start the new year bright eyed and bushy tailed (at least once we've eaten our way through the mountain of leftover mince pies… I'm not complaining.)
At Twelve PR we have added 'back-to-school-vibes' with a new look which we launched at the tail end of last year. You may have already noticed the new logo, website and email signatures cropping up.
We also published a new desk calendar – each month featuring a Suzie Dent style dictionary word, each connected with communications. (If you'd like one, we still have a few remaining – email me at jessica@twelvepr.co.uk)
This month's word is 'scripturient' or one who has a passion for writing which is an adjective that can be used to describe each member at Twelve.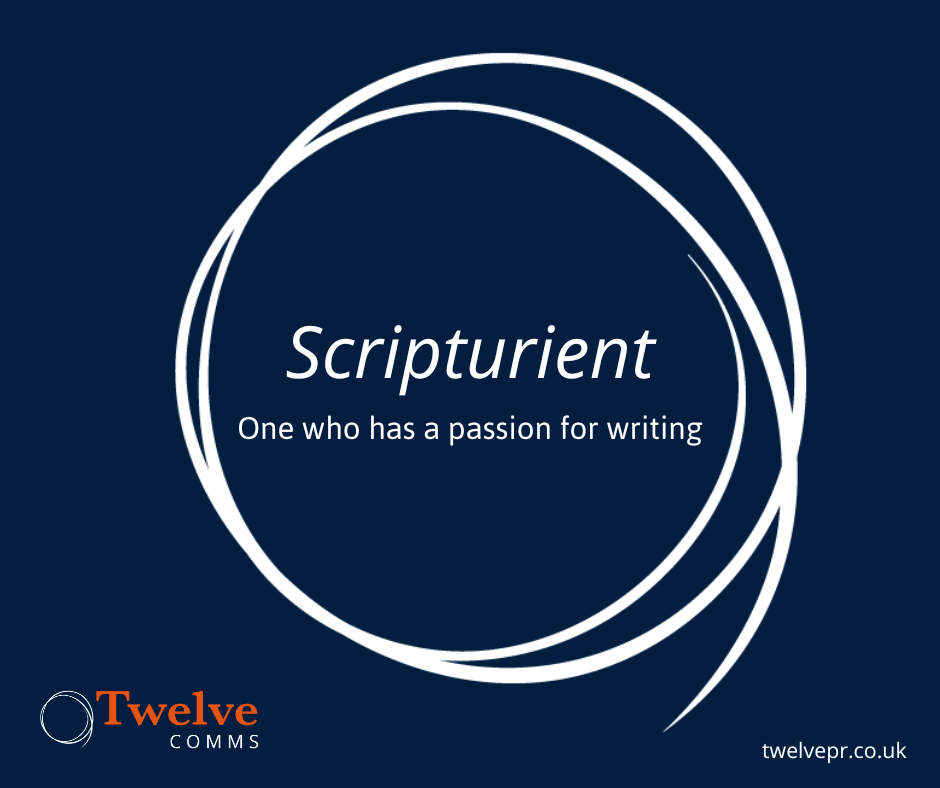 Similarly, the PR calendar often also starts afresh at the beginning of the year and as a team, our minds turn to the media and social media plans ahead. Creating a content plan is a job I particularly relish (nerd) and its importance should never be questioned; it provides the backbone and structure for the entire PR programme.
What is a content plan?
Before we launch into what makes a good content plan, I think it's helpful to first sift through the terminology – what's the difference between content strategy, content plan or a content calendar for example.
Content strategy is ultimately the 'how': how will you use audio, visual and written content to achieve your set objectives, business or communication goals.
The content strategy is informed by your background research – what you know about your target audience and to a degree your gut instinct. It's important to have a clear idea of what you hope to achieve from the outset.
Your content strategy also plays a vital role in online marketing activities. It should take into consideration the key search terms your audience will use to find your company or services. To use the classic marketing funnel analogy, the top of the funnel includes the content you create to draw customers further down until the end call to action which might be to drive traffic to a mailing list sign up or to make a purchase.
Discovering what search terms and what questions your audience is asking should form part of your background research. Using websites such as Ask The Public and Google Trends will help to identify problem areas that you can look to address as part of your content strategy – creating blog posts or webinars for instance that directly answer those questions and creating useful content that your audience needs.
We'll use a simplified fictional example. Spark Cars are an EV hire car brand. Its target audience are city dwellers in UK and its business objective is to increase the number of customers opting for EV hire purchase over a traditional petrol vehicle.
In terms of your communications strategy, we set and measure against key messages. It is these key messages that reinforce your business goals and dictates the content strategy. For Spark Cars, the key messages include 1) EV car hire is more sustainable option over petrol and 2) it is more cost effective to hire an EV over traditional counterparts.
The content plan is the 'what, where and when': What will your content be? Where will you put it? And when will it be published? It is the doing part. A content calendar is really part of the overall content plan and can be used to a degree interchangeably but particularly focuses on the 'when.'
What's in a content plan?
The content plan is aligned with your key objectives and should be clear and achievable. It might include:
Upcoming events
New legislation
Awareness days
Social media campaigns
Competitions
Awards
Product launches
Company or staff milestones
Speaker engagements
Webinars
Thought leadership topics
Pitch ideas
Blog posts
Press releases
News items
Podcast interviews
It can seem onerous to tackle a plan for 12 months in advance, so breaking it down quarterly can be helpful. Our content plans break down communication activities and the content we will be generating by month. For Spark Cars, we might see a content plan that looks like:
| | | |
| --- | --- | --- |
| Month | Blog / News item | Accompanying content activities |
| January | Starting new year with new understanding of EV – why hiring EV might be the best decision you ever made. | Webinar – 10 things to consider when choosing an EV to hire. |
| February | Valentines – Falling in love with EV. | Social media competition – to win a week's free hire. |
| March | Spark cars celebrates 1st birthday | Trade magazine awards announced Podcast interview with Spark Cars founder. |
In conclusion…
So, if we're coming back to the titular question – what makes a good content plan?
A good content plan is one that directly answers your business goals and an accessible calendar outlining the activities and content which will be produced to raise awareness of your key messages and ultimately, affect your bottom line.
If you need a hand getting all your communication ducks in a row, then drop me an email (jessica@twelvepr.co.uk) and I will take personal pleasure in helping to draw up a content strategy.