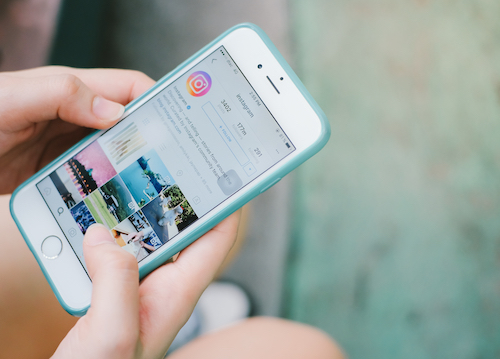 In the summer of 2018, Instagram announced it had hit one billion monthly active users. Despite this figure, many B2B companies are still unclear on how to effectively use the image based platform or the benefits of using Instagram as part of a content marketing strategy.
Facebook was launched around fourteen years ago, Twitter twelve years, and Instagram only eight years ago. So, it's understandable that businesses could be reluctant to invest in a media platform that isn't even a decade old.
Can a B2B campaign be relevant on Instagram?
The simple answer is yes.
Instagram can be a really useful tool to not only support brand awareness but also help develop a business personality. People want to buy from brands they like and trust, and Instagram is a great way to do this. A picture speaks a thousand words as the saying goes.
Take IBM or MailChimp for example, these companies directly target businesses; however, both successfully use Instagram to highlight the company voice as well as product offerings.
Just because a business is selling directly to another company, rather than to a consumer, doesn't mean there is an absence of people in the purchasing process. It is as equally important to develop a reputation and trust with individuals, as it is to develop a relationship on a whole business-wide scale.
 Business communication opportunities 
Not only is Instagram a great place to build brand awareness, but it's also an excellent tool for two-way conversations between a company and the desired target audience. The premise of social media is to be social, not just to broadcast information. The ease that customers can communicate directly with a company allows for constant feedback. Instagram provides any B2B company with the opportunity to gain valuable customer information directly from those who it affects most.
Twitter may have introduced the use of hashtags on social media, but Instagram took their application to a new level. Users routinely click on hashtags that are appropriate to them. By using the most relevant hashtags to a business or industry, B2B companies are able to reach users who are actively showing an interest in the content, resulting in more valuable engagement.
Facebook changed its algorithm a couple of years ago to make posts from business accounts less discoverable without advertising spend. Instagram's algorithm is focused on ensuring users are seeing the content they care about.
"If your favourite musician shares a video from last night's concert, it will be waiting for you when you wake up, no matter how many accounts you follow or what time zone you live in. And when your best friend posts a photo of her new puppy, you won't miss it." – Instagram, 2016.
This algorithm provides businesses with the opportunity to engage with the followers who care about its content.
New and improved 
Instagram is always launching new features to improve its offerings.
In June 2018, Instagram launched IGTV, the longer-form video hub allowing people to share videos up to sixty minutes. Users are even able to create their own channel, similar to YouTube (that's the important part).
According to research from Statista, YouTube was crowned second in 'the most popular social media channel worldwide' as of October 2018. And Cisco reported mobile video will account for 78% of all mobile data traffic by 2021.
These figures make it clear the opportunity available to brands utilising IGTV and Instagram properly.
Not only can companies collaborate with influencers creating longer videos on IGTV, but they can also create and share high-quality video content from the company profile. Coupled with the rise in popularity of Instagram stories and the traditional photo grid upload, companies are able to design an entire digital campaign, and deliver it in multiple formats, through one platform.
Only seven months after its launch we think IGTV has the potential to be a strong contender against YouTube, and in turn should be considered by B2B companies aiming to maximise the effectiveness of its social media presence on Instagram.
Spending time and money well on Instagram
While Instagram is a great tool for many companies in supporting its larger communication and brand image, it is important to remember that to be successful the content needs to be strategic. There is almost no point in writing and sharing posts just for the sake of it.
As with all communication activity, social media also needs to be executed properly to ensure the desired outcomes. It is more important to share quality content that will create conversation than it is to create mass volumes of content that nobody engages with.
Time is money and if you spend time creating content with no plan of how it will impact the communication plan on a broader scale, or you are posting a tweet every now and again just to be 'active' – this will not provide a return on investment.
If you want to develop a lively social media B2B campaign and need some advice, give us a call on 01608 495012, or drop me an email –  Elisa@twelvepr.co.uk
https://www.twelvepr.co.uk/wp-content/uploads/2019/01/Instagram-for-Business-.jpg
359
500
Jess
https://www.twelvepr.co.uk/wp-content/uploads/2017/05/logo-300x88.png
Jess
2019-01-07 11:01:35
2019-01-09 10:39:04
Why Instagram isn't just for people sharing pictures of #brunch