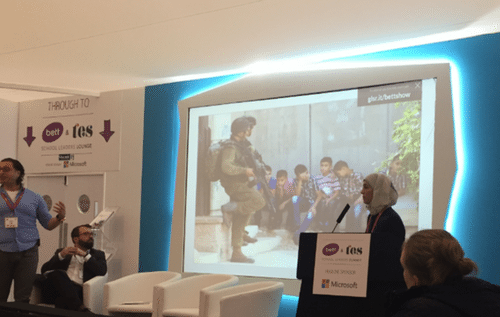 Last week at BETT  I met with one of my heros, Hanan Al Hroub.  She is a small, unassuming lady, voted Global Teacher of the Year in the Varley Foundation awards.
Why is she such a hero?  I hope these pictures give you an idea.
Outside her classroom there is fighting, hostility, boredom.
Inside, happiness, learning and engagement.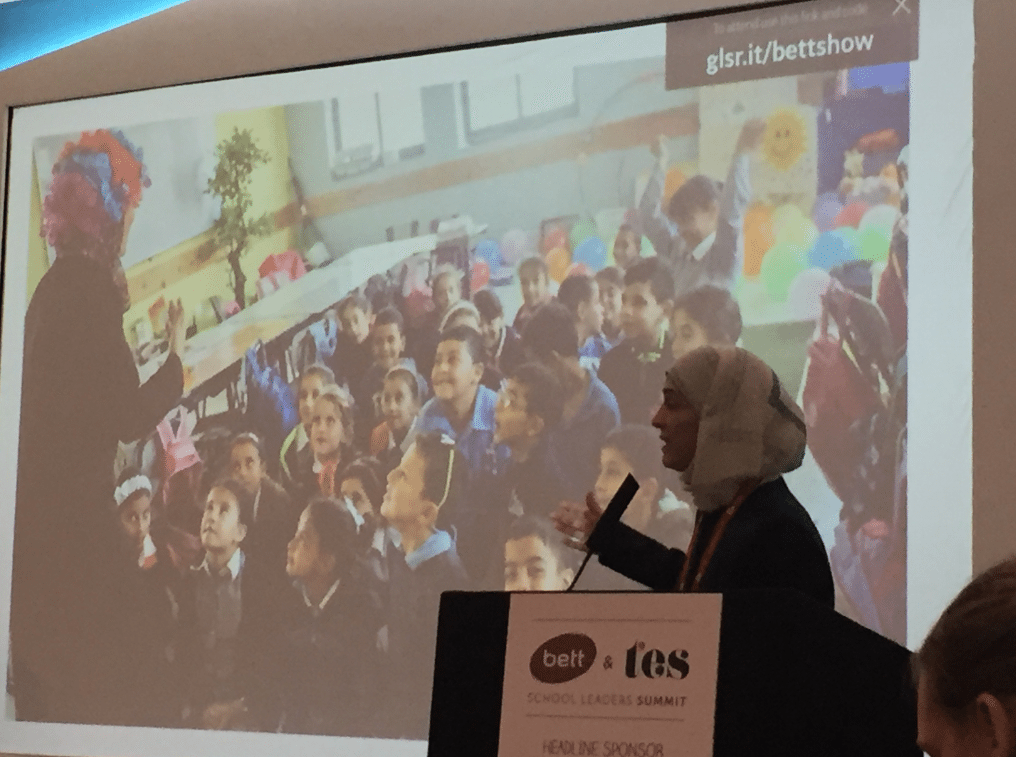 How does she do it?  Hanan described the techniques she used, for example making an indoor garden in the corner of the classroom from old bits of junk she found and the children decorated; telling a story while wearing a funny wig.
She illustrated her talk with a few pictures like those here, and also gave an indepth analysis of the qualities it takes to be an inspirational leader.  She gave good theory which was all interesting to learn.
But what struck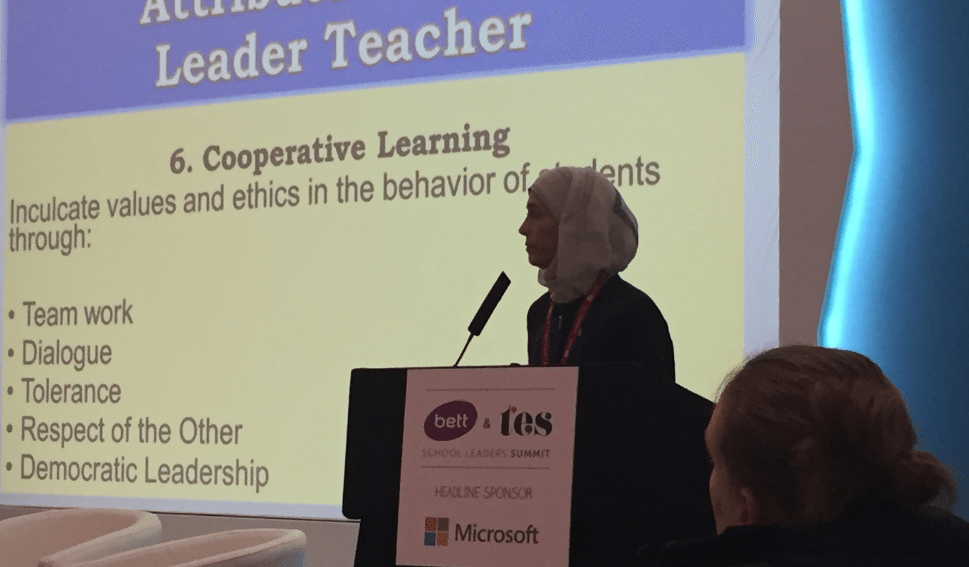 me, ironically, given that we were at BETT (the mother ship of education technology,) was that like all good teaching it came down to the strength of that individual person.
Where she teaches on the West Bank they don't have access to the latest technology, or the even the latest books.  It is her personality, her passion and her belief that makes the difference:
"We have all kinds of suffering and yet I can turn this around in the classroom and I can create a child that can become a happy dreamer".  What a wonderful vision that is:
"the role for me is to protect the smile and protect their dreams" she continued.
Also talking was Colin Hegarty, who was a finalist in the Global Teacher Awards 2016, and Maths Teacher of the Year 2015 in the UK.
Asked what he thought was the most essential quality of a good maths teacher he said 'empathy'.
At the start of each new academic year he asks his class to write him a letter about how they feel about maths.  I can easily imagine how that letter gives him a wealth of  information to help him teach each child more effectively.  What a simple step and yet how powerful.
So the lesson from these great teachers is that it is our inner belief and passion that makes a difference.  Although in both cases they were at pains to emphasise the amount of planning and preparation they do for every lesson.
I went straight from BETT to a governors meeting where we talked about the government's proposed new funding formula, and the impact it will have on our school (because it is less money of course, not more as promised!)… And yet again I was struck by the passion in the room and the determination to make a difference through education to children's lives.
We do need money; we do need to innovate and work with technology but most of all we need passion and a lot of planning.
https://www.twelvepr.co.uk/wp-content/uploads/2017/01/Untitled-design.png
317
500
Nicky
https://www.twelvepr.co.uk/wp-content/uploads/2017/05/logo-300x88.png
Nicky
2017-01-31 08:59:37
2019-07-26 11:43:55
What can we learn from the West Bank? Giving children confidence, hope and curiosity in the classroom.