With Black Friday, Cyber Monday and a weekend of gift-buying, deal-grabbing, elbow-shopping chaos over, we started to think about think about how the environment bears in all this (it is one of our sectors, after all). The battle between traditional retail and online shopping in driving sales is ongoing but we wanted to know which is greener, and how can a consumer, who wants to shop in the most environmentally-friendly way, tell?
Online heavy weights like Amazon are quick to boast about the environmental benefits of e-commerce, stating on their website 'Online shopping is inherently more environmentally-friendly than traditional retailing.' But can the reality be quite this black-and-white? This might be a great strapline that hooks in 'green' shoppers, but as quite research-based PRs, we want to know if this can be backed up!
Retail v e-commerce processes
Retail carbon footprints are generated from a range of processes, from IT infrastructure to vehicle emissions and packaging. It's difficult then, to measure the eco-impact of each scenario for every consumer purchase, as the factors can vary so much from product to product, even in a single retailer.
Overall though, purchasing online should bypass travel to and from physical brick-and-mortar shops, and thus reduce greenhouse gas emissions and yield a lower carbon footprint, unless this journey was taken entirely on foot or by bicycle. This, I suppose, is the black-and-white answer Amazon would give.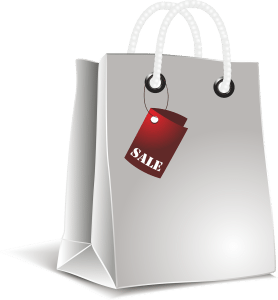 Consumer habit
Consumer habit, however, can also impact on the eco-friendliness of the purchase, and the route to this purchase in today's world is rarely direct due to the multitude of options. For example, if you drive to a shop, buy something, change your mind and return it, carbon emissions will be higher you making a double trip to that shop. Modern delivery methods, like Amazon Prime, which offer next day delivery, and more recently just one or two-hour delivery options, also pose a significant toll on the environment. These quick options make it more difficult for delivery companies to combine shipments to the same area, so the distance driven per item increases, as does the carbon footprint.
Similarly, if you see something in-store, then choose to buy it online, this can offset any deductions related to the final e-commerce purchase. Failed delivery or click-and-collect have the same effect.
A green outcome?
So we haven't really got an answer for which option is greener for the environmentally concerned shopper. Thinking about buying from companies you know to be environmentally-friendly and responsible, opting for eco-friendly packaging (or as little as possible) and if you're buying online, buying in advance and not choosing short delivery times, all add up to a greener way of shopping.
For anyone in the retail sector, including Amazon, it's vital to specify to consumers what steps you're taking to be a green option. Communicating this clearly is key: Consumers know what's important to them when they purchase but they need the full facts from you. If you're looking to do this, to communicate and show your environmental merit and what it means as a retailer and for the planet, we know just the team for the job…!
https://www.twelvepr.co.uk/wp-content/uploads/2016/11/Untitled-design-56.png
317
500
Jess
https://www.twelvepr.co.uk/wp-content/uploads/2017/05/logo-300x88.png
Jess
2016-11-29 11:41:06
2016-11-29 11:41:06
From Black Friday to going green: E-commerce v. traditional retail